LATEST ARTICLES
Elephone U2 new flagship smartphone now is available on Geekbuying with big discount for $249.99 (promo valid until July 16).
Ulefone Power 6 is the new flagship smartphone from Ulefone brand. It has amazing features that should satisfy many users. Ulefone Power 6 comes...
Below you will find a few deals for new TV Boxes such as Alfawise A9 Plus and Alfawise A8 NEO, and also other a popular Android TV Boxes. TV Boxes...
The second part of Geekbuying 7th Anniversary is currently in progress and you can get $77 OFF Coupons. If you are looking for how to save much...
UGOOS AM6 TV Box powered by new Amlogic S922X SoC now is available in presale at the Gearbest store for $129.99 + free shipping with...
During MWC 2019 in Barcelona, Xiaomi global brand (not only smartphones) unveiled its new flagship called Mi 9 / Xiaomi Mi 9 and also...
UMIDIGI team not idle, and introduces two new flagship smartphones on the market. The competition will certainly not be easy because the new UMIDIGI Z2 and UMIDIGI Z2 Pro are...
Most of you is associated NO.1 brand mainly with smartwatches, and rightly so. At this level NO.1 it has many powers which can also...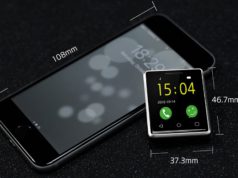 In late October, the market of smartphones spread around the news about the new a smallest smartphone from Vphone brand called Vphone S8. Indeed...
In the market for a long time we see large smartphones equipped with large screens 6-inches and more. Today we want to show you...